Music makes the world go 'round. Investing in instruments makes music and its creation an easily accessible part of daily life. Adding regular practice to your daily routine has so many benefits that extend into other aspects of life, like improving cognitive capacity. There are powerful benefits to music, which makes buying a piano a highly attractive choice. 
However, without experience in pianos, it can be difficult for some people to know what to look for, which can lead to making mistakes while purchasing a piano that results in wasting money, buying a piano that won't ultimately get played, or one that loses its value quickly.
6 Mistakes to Avoid When Buying a Piano
Pianos are a long-term investment. Purchasing one is a commitment and should be carefully considered; price is only a small consideration in the process. If you've decided to make this leap, avoid the following common (and major) mistakes:
1. Not Knowing Your Budget
One of the biggest mistakes people make when purchasing a piano is not knowing their budget. This can lead to over-buying–or under-buying. Knowing ahead of time what you can afford can help keep you from settling on a piano that is too far below your budget and that doesn't fulfill your needs–or falling in love with one that is above your budget that you later regret purchasing.
There are many affordable digital and upright piano options available, starting from $1,000 – $3,000 up to over $100,000 for concert-style grand pianos. If you are paying cash, know how much you are comfortable spending. If you are planning to finance, have a comfortable range for monthly payments that you'd like to spend as well as an idea of what you want the final cost to look like. 
2. Investing in a Piano of Poor Quality
If you or your child are just getting started with learning to play the piano, you may be tempted to purchase the cheapest piano possible, but this is a mistake. Cheap pianos will fall out of tune much more quickly, won't have the appropriate touch or sound when playing, or may even have mechanical defects or downgrades that prevent you from having full use of the piano. This can lead to frustration when learning to play, learning poor habits, or failing to develop the strength or technique you would with a better quality piano. Whether you're choosing to purchase a digital piano or an acoustic piano, finding one of reasonable quality, even for a first purchase, is important.
If you aren't familiar with piano quality, here are some tips:
The longer the soundboard, the better. This means a studio upright piano (the tallest class of upright pianos) may be better than a petite baby grand piano.

Look for wood cores as opposed to foam cores. Wood core pianos have better sound and longevity than their less expensive foam core counterparts.

Go with a well-known brand name. Even if you are purchasing used, it is worth the extra money to go with a well-known brand name such as Yamaha, Kohler & Campbell, Knabe or Clavinova (by Yamaha). Well-known pianos that have poor reputations (such as Young Chang, Samick, or Suzuki) can also be easier to pick out than low-quality lesser-known names.

Keys should be responsive, playing softly when you touch them ever so gently, and loudly when you press harder. Test keys in high, mid, and low ranges by playing one repeatedly, starting soft, going loud, then going back down to whisper-soft. If a key doesn't play loud enough when you press hard–or doesn't voice at all when you play soft–you are likely playing a lower-quality piano.

If you're choosing a digital piano, check out our tips in the next section. As a brief, you will want to look for keys that emulate the weighted action of an acoustic piano, that have the full 88-key keyboard and 3-pedal system, and that can voice at least 44+ notes at a time (this is helpful when you are playing a song that has long sustains).
3. Forgetting to Consider Digital
Maybe you've always envisioned having a polished ebony baby grand piano in your front room or are set on a beautiful oak console piano. As piano lovers, we completely understand the nostalgia and traditionalism that comes with an acoustic piano! However, there are some times where a digital piano may be the right decision for your family. Depending on your budget or space constraints, it may be a mistake not to consider choosing a digital piano. Here are some cases where a digital piano outweighs an acoustic piano:
Digital pianos are a better purchase than a low-quality used piano.

If your budget only allows for a very small spinet piano or a piano that has been beat up and damaged beyond (reasonable) repair, consider going digital instead.

A good digital piano is better than a mediocre acoustic piano

. High-quality digital pianos such as Yamaha Clavinovas are excellent instruments. With full keyboards, weighted keys, amazing instrument voice samples, and top-quality sound production, you can count on a reliable, high-quality performance and sound.

Digital pianos can be great for families with children.

If you have children just starting out in piano and are worried that the instrument may not hold their interest, a digital piano may be a good option. With different instrument sounds, built-in metronomes or backup tracks, savvy app compatibility, and more, a digital piano offers your child and their music teacher tools to be able to fully engage with the instrument, even in the early stages of learning.

For more tips on considering digital vs. acoustic pianos, check out our blog here: 

https://www.pianogallery.com/digital-piano-vs-acoustic-piano-consider/
4. Forgetting to Consider Used
It can also be a mistake to forget to consider used when buying a piano. Acoustic pianos, especially high-quality piano brands, hold their value very well with age. If the used piano is a quality name and has been well cared-for, you can end up with an even better instrument than if you purchased a smaller, brand-new piano.
Again, the length of the soundboard, quality of the materials (wood vs. foam), and manufacturing quality make or break the quality of the piano. If you are choosing between a brand new baby grand from a no-name/low quality company or a used Yamaha grand piano, go with the larger name brand piano. You won't be sorry!
Here are some tips for choosing the best used piano for your budget: https://www.pianogallery.com/tips-buying-used-piano/
5. Not Asking About Financing Options
If you're just barely starting to explore pianos, you may have sticker shock when it comes to your dream piano. Pianos are a financial investment, and a good quality acoustic piano can be quite expensive. However, almost all piano companies offer financing options to help you afford the right piano for your needs.
6. Not Reading the Piano Dealer's Reviews
As much as the type of piano you buy, it can also be a mistake not to research the dealer you are buying from. Look for online reviews of the piano dealer–make sure there are a good number of reviews, then take time to read the reviews to ensure customers before you have had positive experiences. The right piano dealer will offer a good selection of new, used, and digital pianos. They will take the time to work with you–honestly and patiently–to help you determine the best option for your needs.
Are you considering working with The Piano Gallery of Utah? Read our online reviews here!
7. Not Asking About Special Pricing or Promos
While piano dealers will often have a small handful of official sales during the year, there are also pricing or financing promos available that may not be widely advertised. When you are working with a piano dealer, be sure to ask about special pricing or promos that may save you money or open up the opportunity to purchase a higher-level piano than you would otherwise be able to afford.
8. Not Coming Ready to Play
This one is a little nerve-wracking for some customers–especially if they don't have experience playing pianos. However, regardless of whether or not you can play, you should take some time to sit down and play the piano you are considering buying. Different pianos sound differently and play differently. Even if you only hit a few chords or do a simple scale up and down the piano, being able to test the feel and sound of the keys will help you determine whether this is a piano you can love. Don't be afraid to bring a piano book–or several piano books–to give the piano a good solid tryout before you make a purchasing decision. 
The piano dealer you work with will play for you as well–don't be afraid to ask them to repeat a demo or to play a different style of song to help you consider. If you do not play the piano but have a friend or family member who does play, invite them to come along before you make the final purchase. 
Final Thoughts
Do you have any questions about what type of piano will best suit your needs or would you like to talk to an expert about piano options available in your area? Please reach out! Piano Gallery delivers across the country and offers in-person consultations at our stores in Murray, Orem, and St. George, Utah or online virtual consultations for customers worldwide.
You may also be interested in...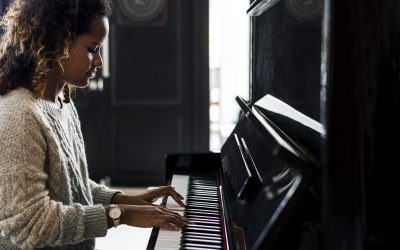 When you're a pianist, playing the piano isn't just a hobby, it's a lifestyle. Even causal players feel a deep, meaningful connection to the instrument. In this article, we share some of our favorite quotes about playing the piano, because #IYKYK Favorite Piano Quotes...