A piano is one of the most memorable Christmas gifts your family can receive. Unlike some gifts, it's not played with for a few weeks then forgotten, it doesn't disappear into a closet until spring cleaning, it isn't quickly replaced by a new obsession or hobby, and it's (usually) more fun to play with than the box it came in.
A piano is a lifetime gift–one that is still with your children as they grow, bringing the love of music not only to your household but to multiple generations.
Your children and loved ones will have memories of sitting at the piano together, taking piano lessons, performing in recitals, learning how to express their emotions through playing, and discovering the joy of bringing music into the home. The gift of music is one that gives for life, and one that will continue to give as your children pass on their passion for music to their children.
But it can sometimes be a creative feat to surprise your family with a piano for Christmas! Piano Gallery offers delivery through Christmas Eve. Some families choose to surprise their loved one with a Christmas Eve reveal, while others like to cordon off the room the piano is in for a dramatic Christmas Day unveiling.
However, if it's impossible to plan a surprise delivery or you're set on having something to put under the tree, here are some fun ideas for surprising your family with a piano for Christmas:
(*Piano Gallery schedules deliveries through Christmas Eve!)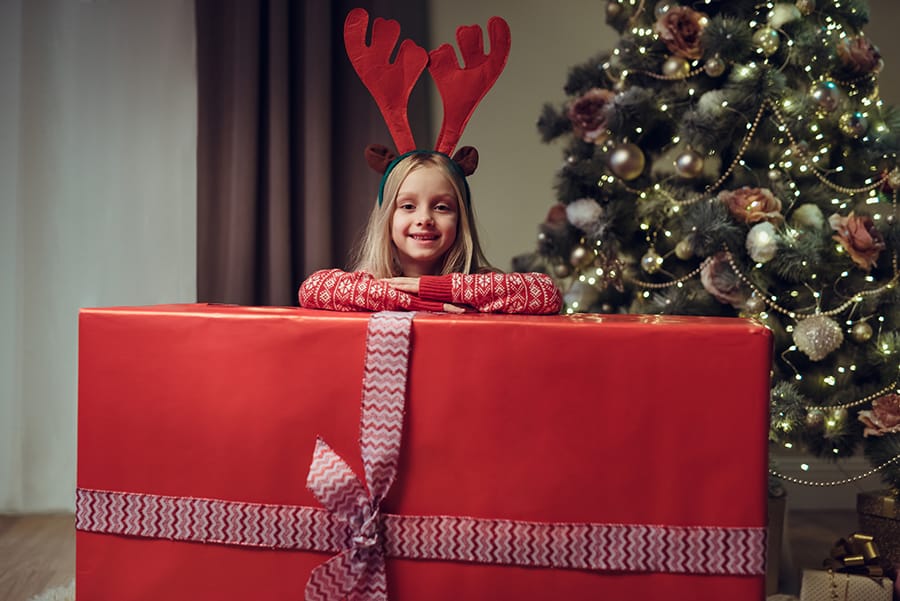 1: Wrap The Box
This is one of our favorite ways to surprise a family with a piano for Christmas.
All pianos come in a big ol' cardboard box, and our technicians assemble the pianos for our showrooms and for delivery. We always keep some extra piano boxes around, so we'll happily load an empty box into your truck or SUV to wrap for Christmas. This way you can have your new piano delivered at your convenience after the holidays, but still experience the thrill of opening the amazing gift on Christmas morning.
Your family will be delighted to see such a huge gift wrapped by the Christmas tree and will be excited to open it and see what's inside! While you probably don't want to keep the loaded box under your tree (they're quite heavy), you can print a picture of your new piano onto a poster and put the poster inside the box.
2. Wrap a Piano Lid Key
Most acoustic pianos come with a beautiful key that locks the lid. Put this in a little box with some tinsel and a letter or picture describing what it opens.
3. Salesperson (Video) Greetings
Your family might love a surprise video greeting from one of our salespeople introducing their new piano!
Bring your cell phone, hit record, and we'll take care of the rest. You can ask our salespeople to sit down at the piano, play a Christmas carol, and then congratulate the family on the newest addition to their household. If you've already scheduled a delivery date, your salesperson can let your family know in the video when your piano will be delivered.
Have a little fun with it! Leave a card hanging on the Christmas tree telling the family to gather around mom or dad to see a special announcement on their cell phone–or if you're technology-oriented you can stream your video on your tv or laptop!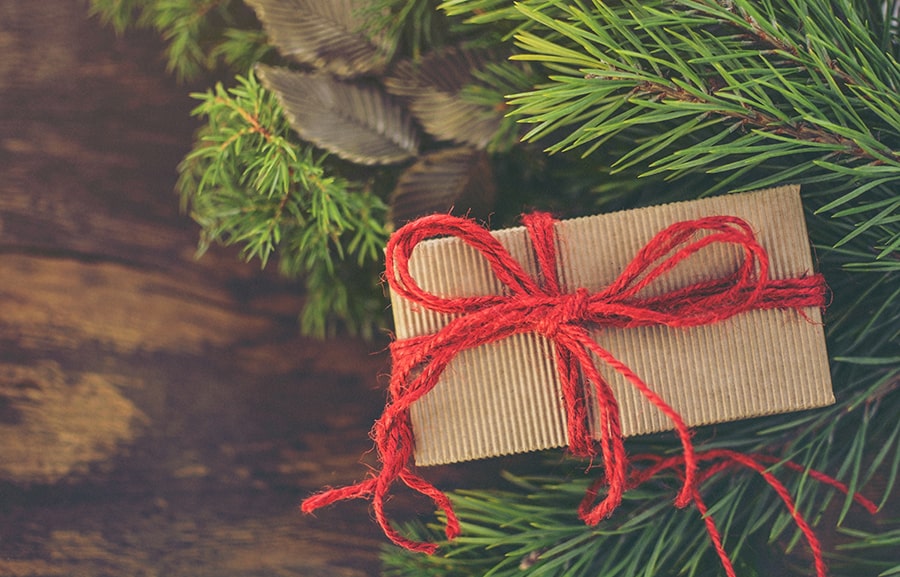 4. Gift Card Box with a Personalized Business Card
If you're looking for a quick and easy way to surprise your family with a piano for Christmas, grab your salesman's business card and ask him or her to write "Congratulations on your new piano!" on the back of the card and sign his or her name.
Pick up a business card-sized Christmas box at the store and wrap it for under the tree!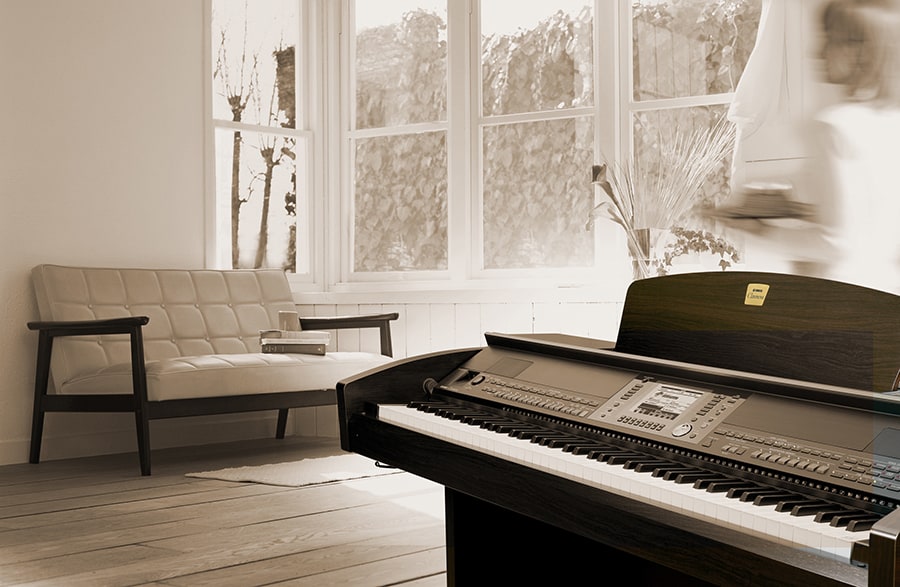 5. Yamaha Clavinova Digital Pianos can be Self-Assembled
Yamaha Clavinovas are one of the most popular digital pianos in the United States. They're also one of the easiest pianos to surprise families with for the holidays! These are some of the best sellers during the holidays (and they usually sell out in the first week or two of December, so order yours today!). You can wrap the box and assemble it after the family has opened the big box, or you can have the Piano Gallery Delivery Team assemble your Clavinova and hide it in a secret room (or wrap it next to the tree) so your family can enjoy the digital piano on Christmas morning. These digital pianos are also relatively light, easily moved by a two-person team, which means it can be easily placed next to your tree and later moved to it's "forever" position elsewhere in your home.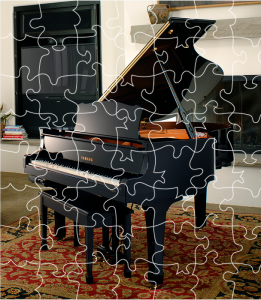 6. Make a Puzzle
If you are the crafty sort, you can take a picture of the piano and print it onto puzzle pieces (cardstock paper works fine–there are lots of puzzle patterns online you can use). Shutterfly and Walgreens also offer customized photo puzzles. Snap a pic of your new piano (or ask our salespeople to email or text you one of our official images of the piano) and order a puzzle of your piano as a Christmas surprise.
7. Framed Photo
Wrapped a framed photo of your new piano with a big Christmas bow on it.
8. Wrap a Calendar
Choose a beautiful calendar. After you schedule your piano delivery, write "Piano Delivery!!!" on the date on your calendar, and wrap it.
Tell your family there's a surprise hidden somewhere in the calendar and let them flip through to find the surprise!
9. Sheet Music
Choose a few fun piano books that your family will love. Wrap the books and wait for the look of confusion when they open them. Go "Oh! I forgot to wrap part of the gift!" and hand over a card that explains that the other part of the gift is a new piano.
10. Piano Polishing Kit
Pianos usually come with a small piano polishing kit to keep your piano looking like new. Wrap the piano polishing kit with a "gift certificate" for their new piano.
11. Wrap the Bench. Take a photo of your piano and print it on an 8×10″ photo. Most piano benches have a hinged lid, so open it and put your photo (or card) in there.
Wrap the bench and your family will be surprised with the news when they open the lid and see the picture.
12. Scavenger Hunt
Hide a series of clues, each with a hint about the present and a map/hint to the next clue. You could also hide a piece of a picture that your family can put together to complete a picture of your new piano, or each clue can lead to a letter P-I-A-N-O to spell out "PIANO." If you go the "guess the gift" route, some hints might include:
This present is bigger than a breadbox
This present is smaller than an elephant
This present is too heavy to carry
The manufacturer of this present is Yamaha (or Wm. Knabe & Co.)
This present makes a music
This present has hammers and strings
This present has 88 keys that you push to make sounds
The name of this present starts with a P and has 5 letters
The name of this present rhymes with "soprano"