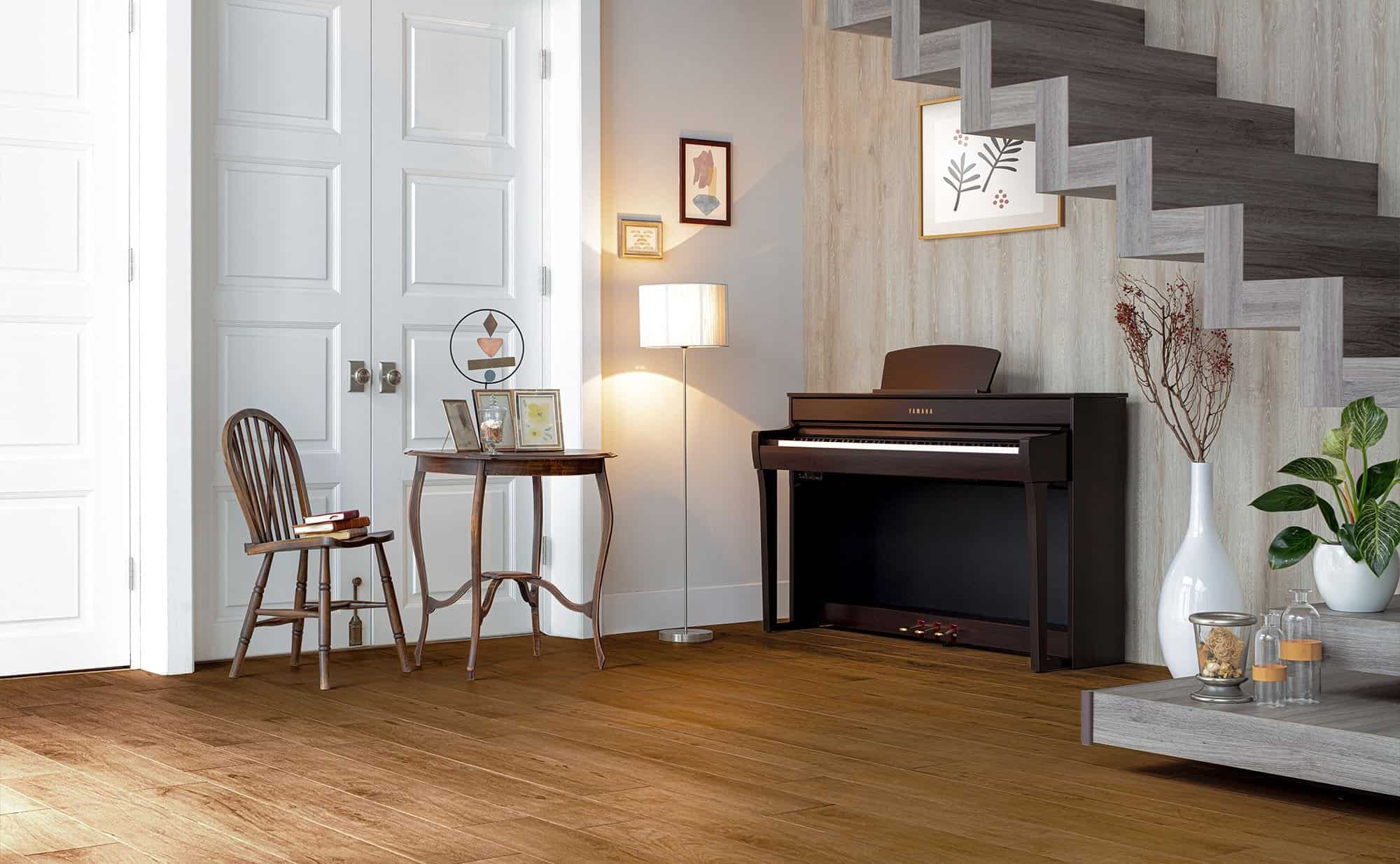 What is a Yamaha Clavinova?
Yamaha Clavinovas are advanced digital pianos produced by Yamaha specifically manufactured to emulate the touch, sound, and performance of an acoustic grand piano. While many digital pianos are designed for portability and compact size, the Yamaha Clavinova is designed to replace an acoustic piano while providing additional features for learning, entertainment, and performance capability.
Does a Yamaha Clavinova Feel Like a Real Piano?
Yamaha Clavinovas have weighted, graded keys that feel like a real piano. This technology mimics the touch and release felt by the hammer action in a real acoustic piano. 
Clavinovas also feature a slow-release technology that increases the responsiveness of keys similar to a real acoustic grand piano, allowing for the nuanced staccato, legato, forte and pianissimo notes that are often missed by digital keyboards. In addition, Yanmaha Clavinovas also have synthetic ivory and ebony keys that mimic the touch of real acoustic piano keys.
What is the Best Yamaha Clavinova Model?
The top Yamaha Clavinova model is the Yamaha CVP-809 Clavinova. What makes the CVP-809 the best Yamaha Clavinova manufactured is the GranTouch action which provides the most authentic touch, feel, and expression available in a digital piano. The CVP-809 also has Virtual Resonance Modeling which is modeled after the way a true acoustic piano resonates through the soundboard, frame, and rim.
What is the Best Yamaha Clavinova for a Beginner?
The CSP-150 is considered the best Yamaha Clavinova for beginners by most Yamaha piano dealers. This is because of its affordability, authentic sound and touch, and its versatile learning capabilities.
The CSP-150 is a great piano for beginners because it has advanced teaching technology, including tablet compatibility with a large library of Yamaha tools, games, and resources to learning to play the piano. The Yamaha CSP-150 Clavinova also has a play-by-light keyboard that guides the player by lighting up each note in their favorite songs.
What is the Most Affordable Clavinova?
The most affordable Clavinova is the Yamaha CLP-735. These start at $3,199, but are often available on sale for $2,899.99. This is significantly less expensive than the top Yamaha Clavinova model, the CVP-809, which retails for $14,999.
While Yamaha Clavinovas are more expensive than electric keyboards, their features and technology make them the most realistic piano sound and action while providing additional features to improve learning, performance, and capability. For most piano players, new or advanced, the price of a Clavinova is worth being able to have action and sound more similar to an acoustic piano than offered by electric keyboards.
Does a Clavinova Sound like a Piano?
Yamaha Clavinovas are specifically designed to sound like a real piano. They achieve this real piano sound from advanced sampling and virtual resonance modeling, which reproduce a true piano sound more realistic than any other digital piano.
Clavinovas have advanced sampling from the Yamaha CFX grand piano and iconic Bösendorfer Imperial grand for a robust acoustic grand piano sound. You can choose to play with either of these pianos at the touch of a button.
In addition to a realistic piano sound, Yamaha Clavinovas also have a range of other realistic instrument sounds available. Samplings from instruments such as guitars and wind instruments include natural sounds such as fret noises, body knocks, exhales and glissandos (the glide from one pitch to another).
Does a Clavinova Need Tuning?
No, one of the major conveniences of a digital piano like a Yamaha Clavinova is that they don't need tuning.
Clavinovas, as long as they are well cared for, need very little professional maintenance. Instead, keeping a Clavinova clean, safe from liquids and dust, unplugged when not in use, and protected from heat fluctuations and heavy knocks or accidents can help your Clavinova last maintenance-free for a long time. The most common service a Clavinova requires has to do with the internal electronics which can age, especially if the piano is left on and plugged in for extended periods of time, or software updates.
Do Clavinovas Have Weighted Keys?
Yes, Clavinovas have weighted keys which emulate the true touch and feel of an acoustic grand piano. In addition to weighted keys, Clavinovas have graded keys and synthetic ivory and ebony keys so they play and feel like a real piano.
Can You Buy a Yamaha Clavinova Online?
Yes, Yamaha Clavinovas are available for purchase online through certified Yamaha dealers. Clavinovas are portable and easier to ship than acoustic pianos since they don't have the strings, hammers, or soundboard that can become damaged during improper transportation. 
Clavinova pianos can be shipped across the country more affordably than traditional acoustic pianos. They are also easy to set up and have plenty of material available online in the off-chance troubleshooting is required during setup.
Clavinova Series Comparison
Each Clavinova series is built to meet specific needs:
CLP Series. This Clavinova series is built for performance, with an emphasis on creating the most authentic sound possible.
CVP Series. The CVP Clavinova series is made to be an excellent tool for mastering playing the piano.
CSP Series. Explore sound with the CSP series with a wide range of voices as well as harmonizing tones.
Yamaha Clavinova CLP Series Comparison Table
Having trouble viewing the table below? Click to expand.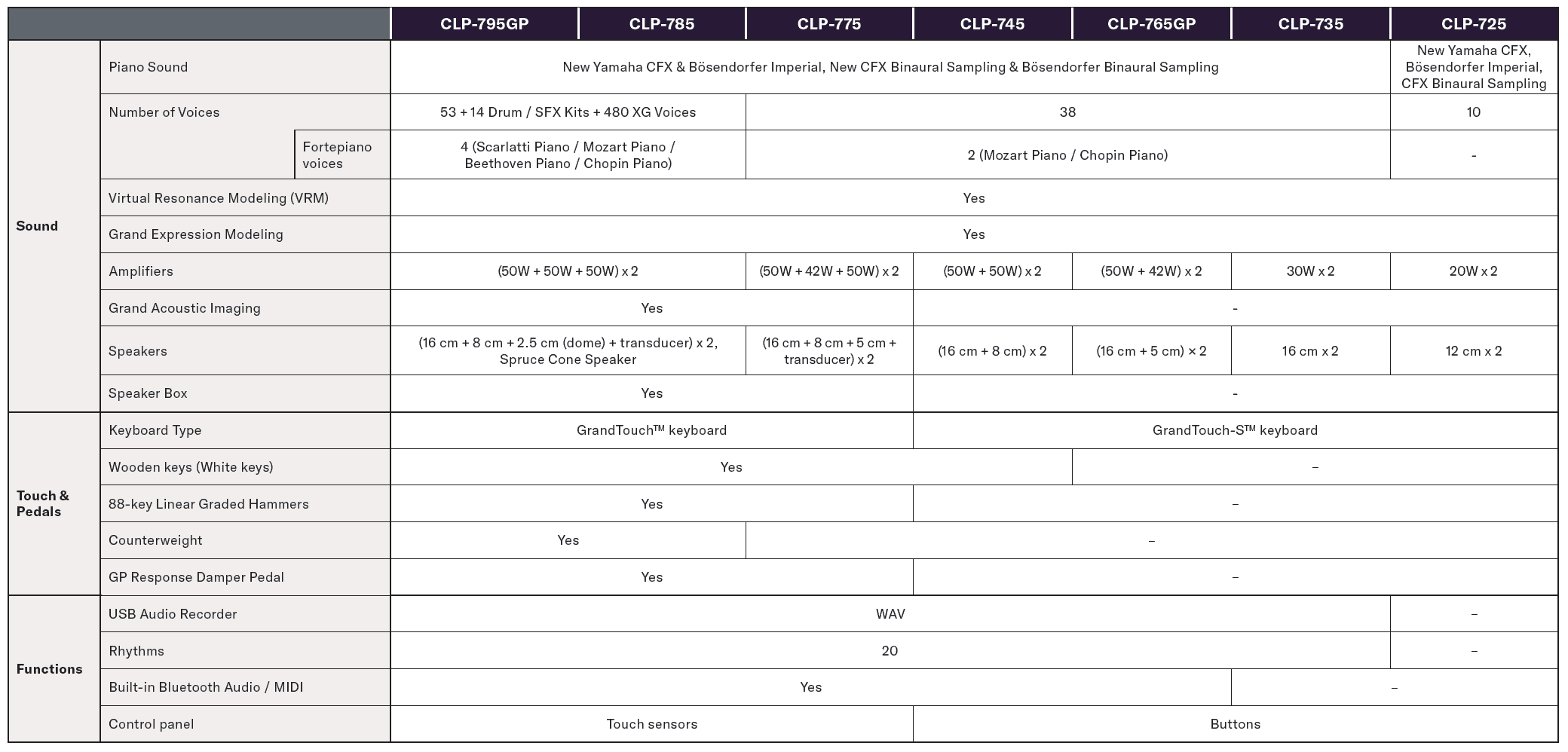 Yamaha Clavinova CSP Series Comparison Table
Having trouble viewing the table below? Click to expand.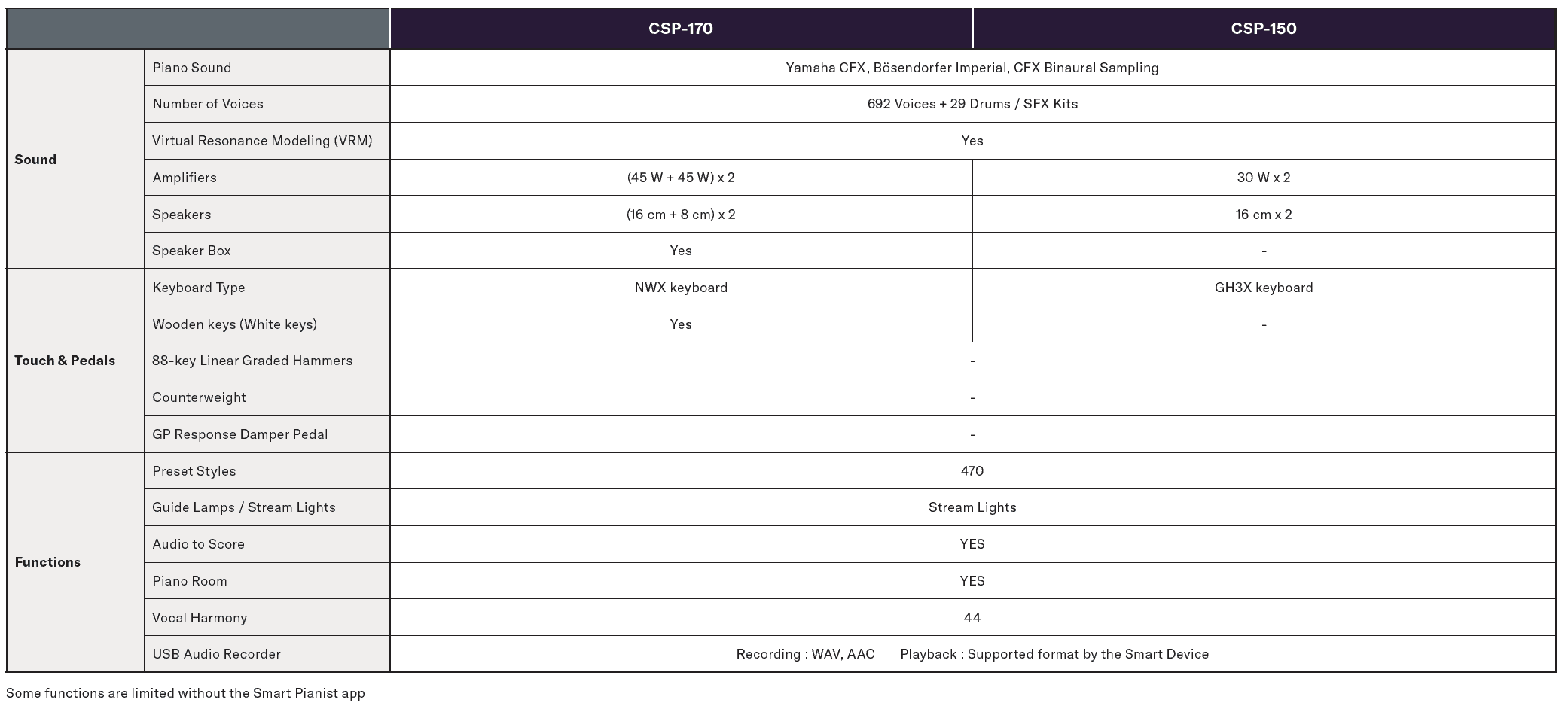 Yamaha Clavinova CVP Series Comparison Table
Having trouble viewing the table below? Click to expand.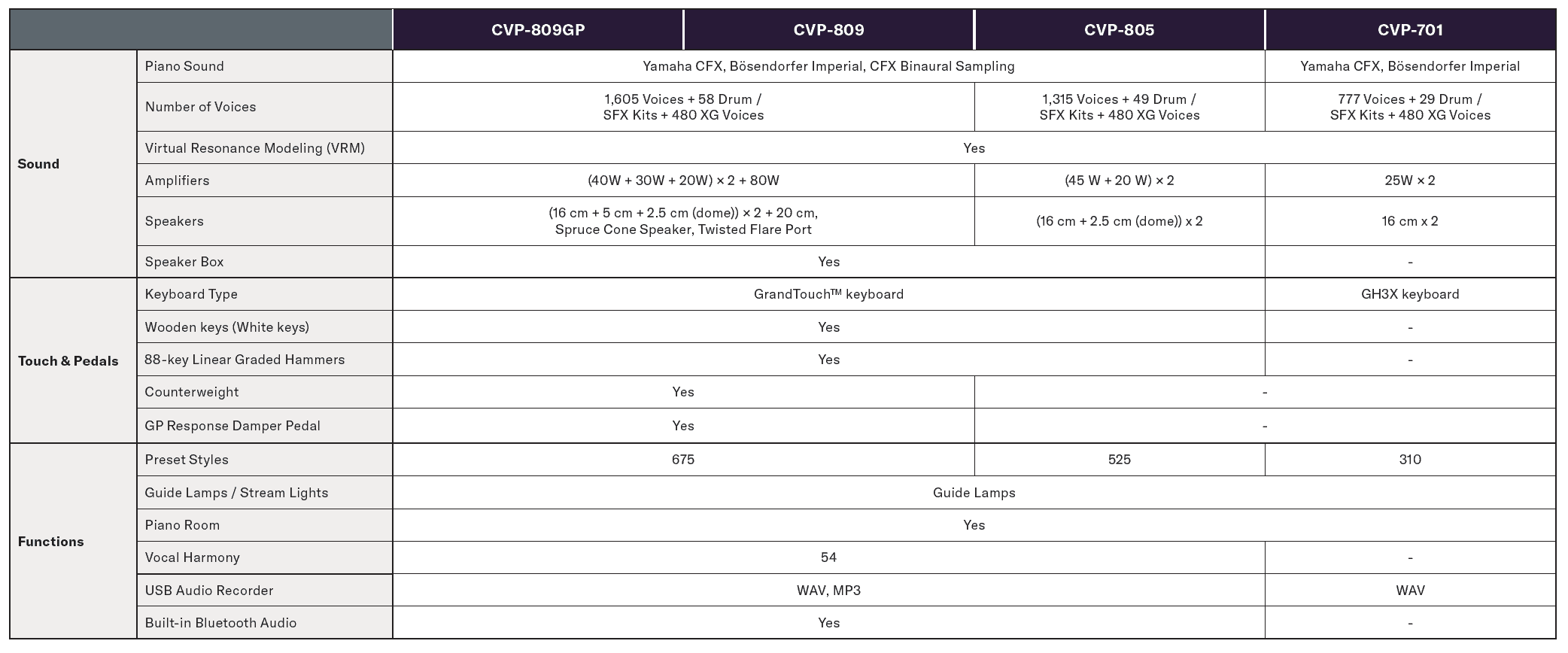 Clavinova Features
Learn more about the features from the Clavinova comparison charts below.
GrandTouch™ Keyboard
The GrandTouch™ keyboard refers to the synthetic ivory and ebony keys, made from solid wood. This makes them more absorbent than glossy plastic keys of electronic keyboards, preventing slipping even during extended play. In addition, each key has a wooden texture and structure that emulates a real piano feel.
Weighted Keys
On a traditional grand piano, each key feels slightly different because strings differ in thickness and length. This makes the feel of hitting the thicker, longer bass notes different than the short, thin treble keys. The Yamaha Clavinova has extreme attention to detail that emulates the weight and key return of each of these notes, providing a touch and response that is exceptionally close to a true grand piano.
Key Counterweights
Counterweights in keys help provide better control in acoustic pianos when playing with a soft, delicate touch. The Yamaha Clavinova features similar counterweights patterned after this playability, so players experience the same touch sensitivity and key return as in a high-qualty grand piano.
GP Response Damper Pedal
In an acoustic piano, the damper pedal can be depressed at different stages to change the depth and character of a piano's sound. In most digital pianos, the damper pedal is all or nothing. In the Yamaha Clavinova, however, the damper pedal emulates the responsivity of a grand piano.
Touch Sensor Control Piano
One thing that digital piano players have companied about is how "digital" the piano looks, even when it's not being played. Yamaha understood that just because a piano player wanted the features of a digital piano doesn't necessarily mean they want it to look digital in nature. Many Yamaha Clavinova pianos have a touch sensor control panel which displays text and buttons when the piano is on, and hides them when they are not, giving the appearance of an acoustic keyblock.
Grand Expression Modeling
The performance of Clavinovas featuring Grand Expression Modeling is designed after an acoustic grand piano. A traditional grand piano responds to the subtle nuances of how a key is played, including how hard or softly a key is pressed, the speed at which it is played, and the depth of the key's depression. The result is more than just how loud or soft a not sounds; it is a highly expressive playability that captures the nuances of trills, legatos, crispness or loose, faint tones, and more. For an advanced piano player, these nuances are essential in a piano. To a beginner or intermediate player, having a piano with these capabilities helps the pianist learn the various techniques and joy of expression that comes with playing the piano.
Iconic Piano Sound
While there are multiple piano sounds (as well as a wide range of other instrument sounds) available in Yamaha Clavinovas, the most iconic are the Yamaha CFX and Bösendorfer Imperial. When these piano (and other instrument) sounds are sampled, Yamaha takes the slightest adjustments and tonal ranges to reproduce the most accurate and realistic sound possible.
Virtual Resonance Modeling
The sound of a piano comes from more than just its strings; it comes from the vibrations through the soundboard, rim, and frame. With virtual resonance modeling, Yamaha Clavinovas replicate the way the sound resonates through a piano. In the CLP-700 Series, they also model the sound the dampers make when they raise off the strings.
Binaural Sampling
There's a difference between hearing a piano in real life and hearing it via headphones. Traditionally, headphones provide a more one-dimensional sound that can sound "off" to many pianists. To remedy this, Yamaha uses binaural sampling, which better replicates the way a sound resonates from the position of one ear to the other for a more three-dimensional sound. This is replicated even in headphones using stereophonic optimization, making players feel like they're playing in a concert hall even if they're wearing headphones.
Spruce Cone Speakers
In higher-end Yamaha Clavinovas, you'll find spruce cone speakers that use pulp from the same wood used to make acoustic piano soundboards. The result is a more natural, realistic acoustic piano sound.
Built-in Practice Exercises
Every Clavinova comes with built-in practice exercises with methods ranging from Hanon to Bayer, Czerny and beyond.
Back-up Musicians
The CLP-700 Series includes backup rhythms that add drum and bass accompaniments to your music.
Bluetooth Audio
Play music through your Clavinova from your phone or tablet using Bluetooth, or stream audio data such as mp3 files. This means you can use your Clavinova as ahigh-quality sound system, or stream music to the Clavinova so you can play along to your favorite songs.
Smart Pianist App
The Smart Pianist App includes a variety of features that allow you to control your Clavinova from your tablet, shows the chord progressions of your favorite songs, provides piano lesson pieces, band accompaniment and microphone connectivity for vocal functions, "Audio to Score" functions that create automatic piano accompaniments for songs o your smart device, and more.
Multi-track Song Recorder
The recording function on a Yamaha Clavinova allows you to record your performance with a touch of a button. For more advanced recordings, you can record up to 16 tracks for simultaneous playback. These recordings can also be recorded onto a USB flash drive to share or play back on a computer.
Ask a Question
Do you have a question about Yamaha Clavinova Digital Pianos that we didn't answer in the guide above? Please let us know! Click "Ask a Question" below and one of our certified Yamaha Clavinova Experts will be happy to help.