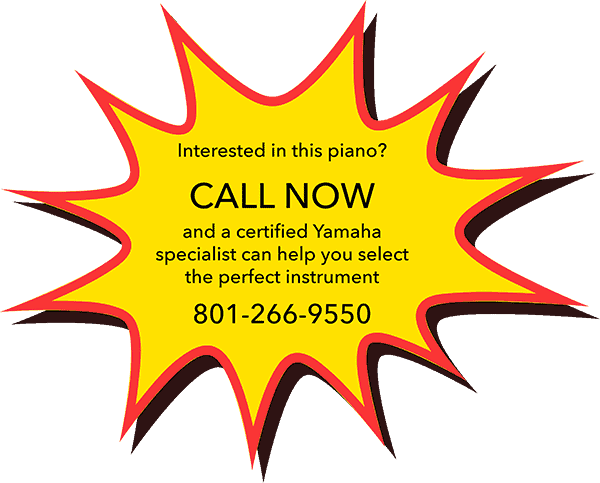 NEW Yamaha Clavinova CLP-735
The Yamaha Clavinova CLP-735 takes the phenomenal technology from the renowned Clavinova series and improves the touch, sensitivity, and sound for an even more realistic playing experience.
MSRP: $3199.00-$3,699.00
Buy Online Price: $2899.99 – $3,399.99
Dimensions: 36 5/8" H, 57 11/16" W, 18 1/16" D
Model: Yamaha Clavinova CLP-735
Cabinet: Rosewood, Matte Black, Matte White, Dark Walnut, Polished Ebony
Weight: 132 lbs
Keys: 88
Pedals: 3
Recording & Playback: Yes
The brand-new Yamaha Clavinova CLP-735 sets the new standard for what it takes to be called a Yamaha Clavinova. The Yamaha Clavinova CLP-735 takes the phenomenal technology from the renowned Clavinova series and improves the touch, sensitivity, and sound for an even more realistic playing experience.
Some of the Features of the Clavinova CLP-735 Include:
The Clavinova CLP-735 is the most affordable model of the new Clavinova 700 series. It focuses on sound, touch, and expression while also offering great additional features including additional instrument voices, rhythms, recording, and more.
The GrandTouch-S™ Keyboard
Yamaha already does an amazing job of producing the best expressionism possible in the Yamaha Clavinova digital pianos, but the GrandTouch-S™ keyboard takes it to a whole new level. The GrandTouch
Real Grand Expression 2
This feature in the Yamaha Clavinova CLP-735 allows you to use the slightest variations in your touch as you play, helping to capture your musical expression.
Binaural Sampling
You already know that the Yamaha Clavinova samples from two of the greatest Yamaha pianos in the world: the Yamaha CFX and the Bösendorfer. With binaural sampling, the Yamaha CLP-735 can reproduce an even more realistic, dynamic range and tone from these renowned pianos.
Virtual Resonance Modeling
This innovative technology means the Yamaha Clavinova CLP-735 recreates the resonance of an acoustic grand piano's soundboard, rim, and frame. What's even more impressive is that you will experience this resonance even while playing with headphones.
Fortepiano Voices
Play like the classical masters with piano voices specifically sampled to simulate the way great artists like Mozart and Chopin would have played.
Dual/Split Voice Modes
Amp up your performance game with dual/split voice modes in the Yamaha Clavinova CLP-735. With this feature, you can play two instrument voices at the same time for a deeper, more complex sound.
Additional features include:
Background Rhythms
USB Audio Recorder
Smart Pianist App compatible with most mobile devices to playback preset and commercially-available songs
Why Purchase Your Piano from The Piano Gallery?
The Piano Gallery has been serving Utah for over 30 years. Our philosophy is not the hard sell, up-sell, or high-pressure tactics; we are truly committed to helping you find the best instrument for your needs.
Our salespeople come from musical backgrounds, with many actively performing in prestigious choirs or musical groups around the nation (and even around the world). Music is deeply engrained in our lives, and we know how powerful it can be for individuals and families. We work directly with you to understand your needs, preferences, and budget to help match you to your perfect piano.
We are so excited to offer the new Yamaha Clavinova CLP-735 both in-store (beginning November 1) and on our online store for pre-order. When you buy a Clavinova online from Piano Gallery, you're buying from one of Yamaha's Top 5 Dealers in the United States. We are committed to quality, professionalism, and service.
When you buy a Yamaha Clavinova CLP-735 online, you'll receive the best price handed straight down from Yamaha upfront. We offer free delivery within 150 miles of our 3 Utah piano store locations as well as setup services. If you live out of our area, we would love to work with you on shipping—just give us a call for more information! If you have any questions about the Clavinova CLP-735, any of our other pianos, or our services, please contact us today.