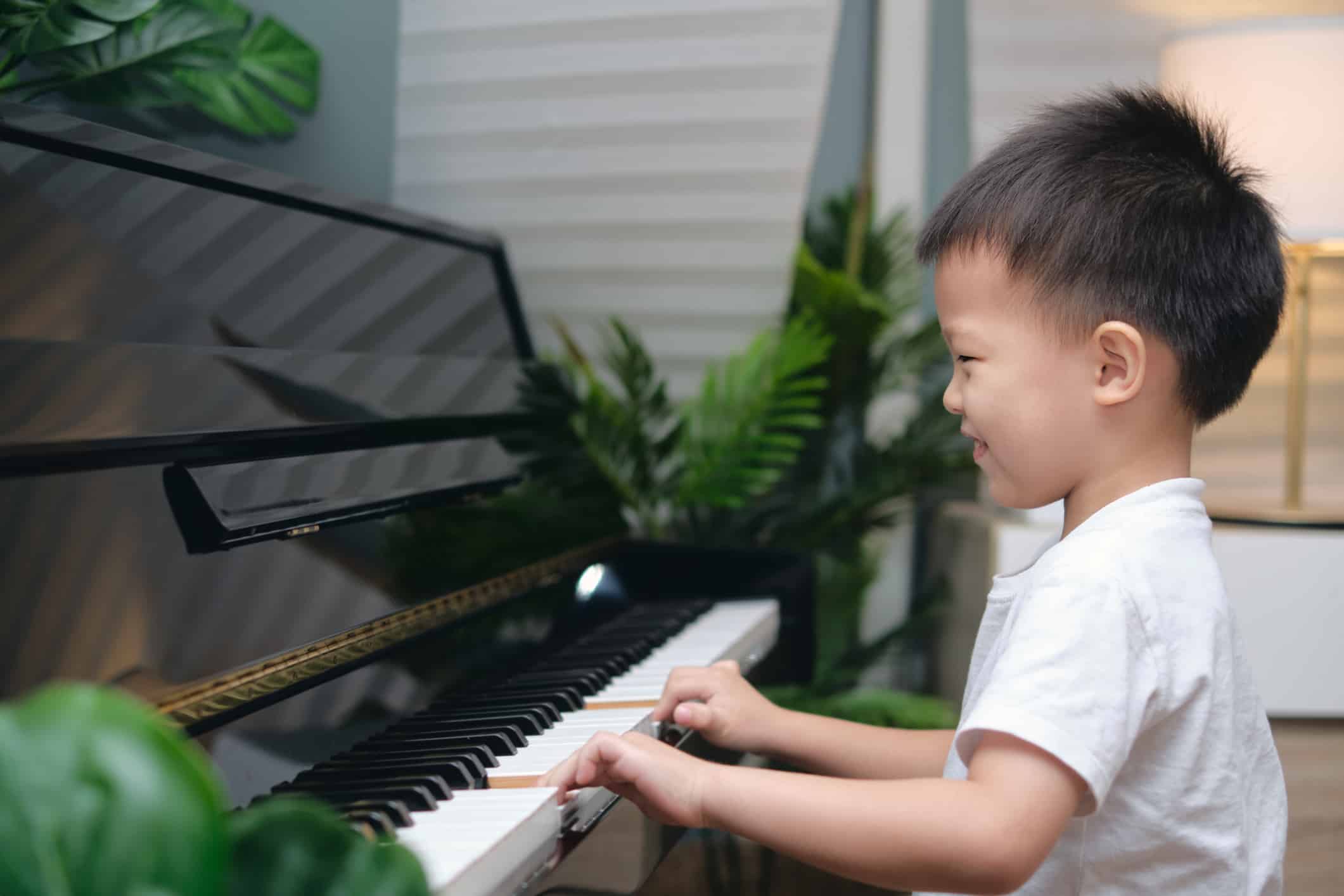 Yamaha is a world-renowned name in pianos because of their quality, reliability, and beauty. With a rich history of piano craftsmanship beginning in 1887, the heritage of Yamaha has made it one of the most respected names in the industry.
About Yamaha's U Series Upright Pianos
The Yamaha U Series pianos are Yamaha's most popular upright pianos because of their quality and craftsmanship. With the more budget-friendly U1 the a larger, more resonant U3, this line of upright pianos is designed to cater to a wide range of pianists, from students and beginners to professionals.
Here are some key features and characteristics that make the U Series stand out:
Exceptional Sound
Yamaha is renowned for its masterful quality of sound. U series upright pianos produce a rich, warm, and clear tone. The use of high-quality materials and expert craftsmanship ensures that the sound is consistent and resonant across the entire keyboard.
Quality & Longevity
Yamaha pianos are built to last, and the U Series is no exception. The combination of premium materials and precise craftsmanship results in a piano that can withstand the test of time. This means it holds its value well, making it a top choice for those intending to later sell or trade in their upright piano for a grand piano.
Action / Touch & Feel
The action of a piano refers to the touch and feel of the keys. Yamaha's U Series pianos offer a responsive and precise action. While this makes less of a difference for beginners, for advanced and professional players, the piano action is integral to the piano's playability. From the lightest pianissimo to the most booming forte, the action of the Yamaha U series upright pianos means piano players have an expert quality responsiveness allowing the most expressive and dynamic performance.
Elegant Design
While Yamaha pianos are known for their sound and performance, they are also enjoyed for their elegant and timeless design. The Yamaha U series comes in multiple colors to suit different tastes, while the quality finish and detailing make these upright pianos a beautiful addition to any room.
Affordability
While Yamaha U Series pianos are top-tier instruments, they are generally more affordable than grand pianos of similar quality. This makes them an attractive option for a wide range of pianists.
What is the Difference Between a U1 and U3 Piano?
Size and Sound: The primary difference among these models is their size and the resulting sound. The U1 is the most compact and the U3 is the largest. This means the U3 typically offers a more resonant and robust sound compared to the U1.
Larger Soundboard Area: Most piano experts will explain that all other things the same, the larger soundboard and longer strings will contribute to a more beautiful and more powerful sound. The U3 has longer strings and a larger soundboard area than the U1, contributing to the U3's fuller, more rounded and resonant sound.
Price: U1 models are generally more affordable than U3 models, making them a suitable choice for budget-conscious buyers. U3 models are typically the most expensive due to their larger size and enhanced features.
Touch and Feel: While all three models have a responsive action, some pianists may prefer the touch and feel of one model over the others. The U3's action may feel slightly different due to its size and construction.
Resonance and Volume: The U3 generally offers greater resonance and volume due to its larger size and increased string length, making it a preferred choice for advanced pianists and those who require a more substantial sound.
| | | |
| --- | --- | --- |
|   | Yamaha U1 | Yamaha U3 |
| Height (in inches) | 48″ | 52″ |
| Width (in inches) | 60″ | 60″ |
| Depth (in inches) | 24″ | 26″ |
| Weight (in lbs) | 502 lbs | 517 lbs |
| Soundboard (in square inches) | 2137 | 2369 |
| Hammer Core | Spruce | Spruce |
| Sound Board Material | Spruce | Spruce |
| Bridge Material | Hard Maple | Hard Maple |
| Pin Block Material | Hard Maple | Hard Maple |
| Number of Back Posts | 5 | 5 |
| Keys | 88 | 88 |
| Pedals | 3 | 3 |
| Soft-close Fallboard | Yes | Yes |
Why Choose a Yamaha U Series Piano?
Legacy & Quality. Yamaha's legacy of craftsmanship and quality assures that every U Series upright piano meets the highest standards. This means that the piano will be of the utmost quality for its new owner, but also that it will hold its value for multiple generations, to resell later, or to trade in for a larger piano.
Versatility. The Yamaha U Series is a popular upright option for beginners and professionals alike. Being able to select from the more budget-friendly U1 or invest in the larger, more advanced U3 means piano buyers can select the upright that's best for them while ensuring they can trust the quality and sound of the piano.
Longevity. Yamaha U Series pianos are known for their durability and resilience, making them a sound long-term investment.
Superior Sound. The rich, full sound of the U Series upright pianos isideal for all styles of music from classical and jazz to contemporary and beyond, offering a broad range of musical possibilities.
Final Thoughts
The Yamaha U Series piano is a testament to Yamaha's commitment to quality and craftsmanship. Whether you're a seasoned pianist looking for a professional instrument or a beginner just starting your musical journey, the Yamaha U Series upright pianos offer an unmatched blend of sound, reliability, artistry, and elegance.
For more information about Yamaha's U Series upright pianos, please feel free to reach out with questions or stop by our locations in Murray, Orem, or St. George, Utah to learn more today.