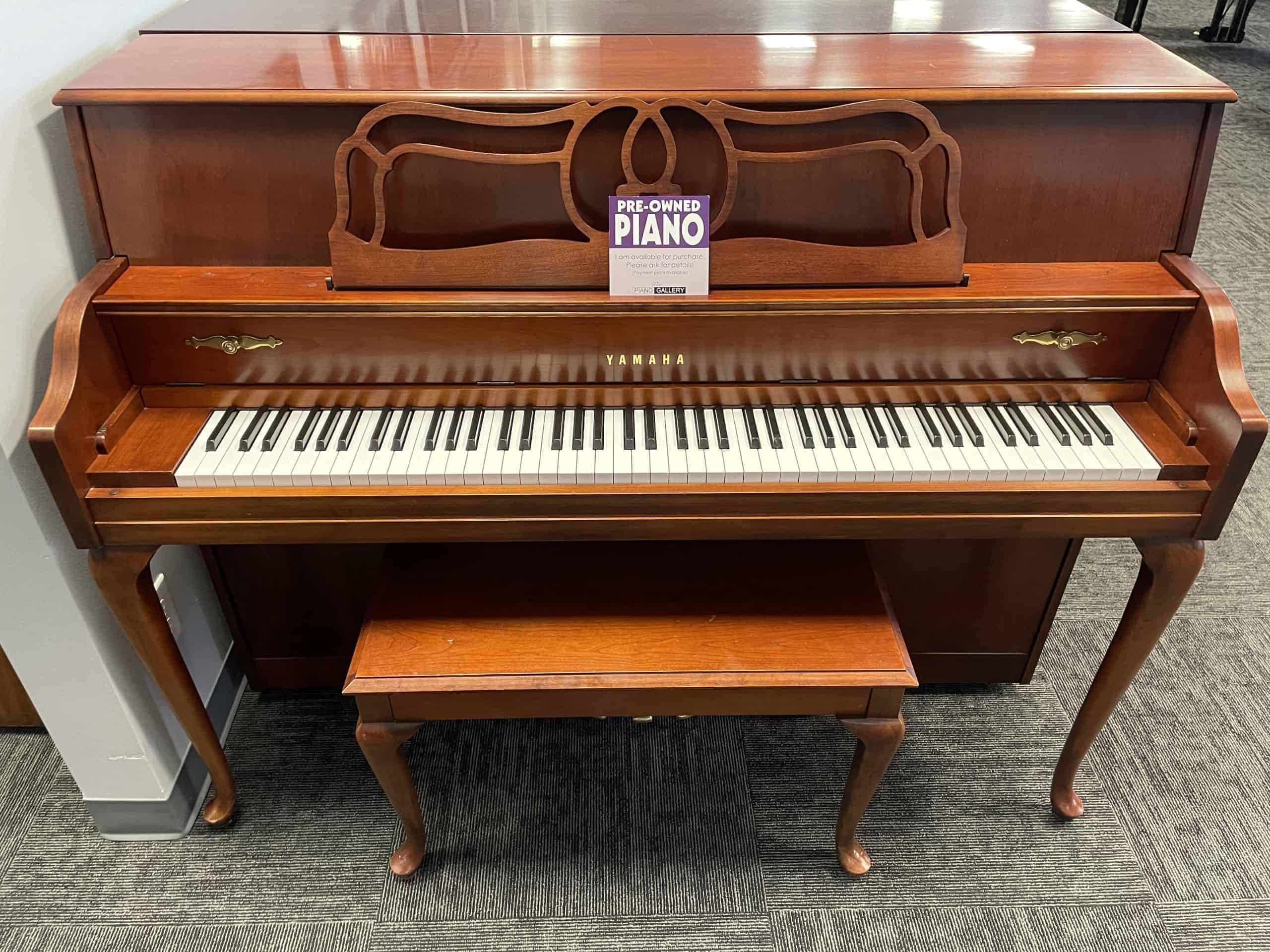 Used Yamaha pianos are among the fastest-selling brands of used pianos. Because of their material and manufacturing quality as well as global brand recognition, Yamaha pianos are preferred by individuals looking for a used piano they can rely on.
Yamaha Pianos Their Hold Value Well
Yamaha pianos hold their value well for a variety of reasons. Yamaha is a Japanese brand and is notorious for having exceptional quality. Without foam or particleboard parts, Yamaha pianos are built with high-quality materials and with high manufacturing standards, so materially and in manufacturing, they maintain their sound and structure better than lower-quality brands.

Used Yamaha pianos also have the benefit of having the Yamaha name, which is a globally-recognized brand. This brand name gives many buyers comfort over lesser-known, boutique brands, for which buyers can't necessarily readily determine quality or value.
Used Yamaha Pianos Sell Quickly
Because they are a well-known brand and reliably hold their value, used Yamaha pianos tend to sell more quickly than other brands. Buying a used piano can feel risky to those who aren't comfortable piano experts. It can be difficult to know what to look for in a used piano and what to avoid. Purchasing a well-known brand such as Yamaha offers comfort as buyers can count on a higher level of quality and workmanship than with unknown brands.
Most Popular Used Yamaha Piano Models
The most popular used Yamaha piano models mirror the best-selling new Yamaha piano counterparts of the past and present. You'll typically find the following on the floor of used piano dealerships:
Yamaha M500.

The Yamaha M500 is a console piano, typically with a decorative style. These pianos are 44" talls and have long strings and soundboards, making for a higher quality sound and tone than many upright pianos.

Yamaha G1 and G2.

The Yamaha G1 is a popular used Yamaha baby grand piano, as it's been a popular baby grand piano for a number of years. These pianos were manufactured between 1984 and 1994, and were replaced by the C series. You'll find G1s and G2s are less expensive than C-series Yamaha pianos though they're similar in materials and manufacturing, primarily because they were manufactured at an earlier date and are therefore older than their C-series counterparts.  Like most used Yamaha pianos, the G1 and G2 hold their value well, and are a good option for buyers looking for a true sound and good quality in a used baby grand piano.

Yamaha U3.

Tha Yamaha U3 is highly regarded as one of the best upright pianos ever made, due not only to its high quality materials and manufacturing, but also stands higher than most other upright pianos at 52" tall, making for a richer, more resonant and pure piano sound. Because of this, Yamaha U3s are one of the most highly sought after used Yamaha pianos.

Yamaha C3.

The Yamaha C3 is among the most popular used Yamaha grand pianos. At 6'1", the Yamaha C3 is an ideal grand piano size for those shopping in the used grand piano market, and its name and quality speak to the popularity of this model.
Final Thoughts
For most buyers searching for used pianos, the Yamaha brand brings comfort, quality, and value to their purchase. If you have a question about Yamaha pianos or would like information about availability (or would like to be notified when used Yamaha pianos become available), please reach out. We are happy to help!