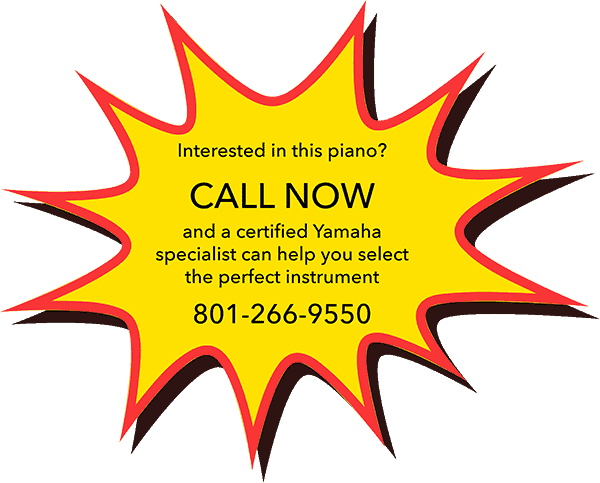 P-S500 Smart Digital Piano
Estimated Availability February 2023
The Yamaha P-S500 smart piano was designed specifically for people who want to learn to play their favorite songs on their own! With a robust self-learning features such as follow-the-lights stream lights, built-in lessons, and audio-to-score functions, the P-S500 digital piano empowers players to learn their favorite songs from home.
In-stock soon! Pre-order now to reserve yours.
MSRP: $2,499
Pre-Order Online Price: $1,999.99
Dimensions: 52.3″ H x 16 W x 6.5 D
Model: Yamaha P-S500
Cabinet: Black, White
Weight: 48 lbs
Keys: 88 weighted keys
Pedals: 3
Speakers: 2x 20W + 2x 6W
Number of Voices: 660 including authentic Yamaha CFX & Bösendorfer Imperial concert grand piano voices
Preset Songs: 403 ranging from pop to classical
Recording & Playback: Yes
Additional Features: Stream lights, Audio-to-score, Built-in Auto-Accompaniment, Microphone input with automatic vocal harmony
PRE-ORDER THE YAMAHA P-S500 NOW
Select your cabinet color option below and click "add to cart" to pre-order today!
The Yamaha P-S500 is a brand new Yamaha digital piano designed specifically for self-learners to learn how to play their favorite songs from home! With features including stream lights, audio-to-score, built-in lessons, and more, even the piano novice can learn to play the piano.
Stream Lights
Stream lights are the follow-the-light feature that tell the piano player which keys to play and when. Follow the stream lights when you play the Yamaha P-S500 and you'll sound like a pro in no time! Stream lights only not only available for the robust library of 403 built-in songs, but also utilizes the Smart Pianist app which analyzes any song within seconds, produces a piano score, and implements that score automatically into stream lights. That means whether you want to play popular favorites or deep cuts, the Yamaha P-S500 can help.
Audio-to-Score
For those who can read music, the Yamaha P-S500 digital piano can translate any song into a score. You can choose different levels based on your experience for sheet music that fits your level of play. Once a song is translated into a score, stream lights are also available to help you play the song smoother and more easily!
Auto-Accompaniment
Even from home you don't have to play alone. Built-in auto accompaniment puts a full band behind you to round out your sound and really make you sound like a pro. The Yamaha P-S500 contains 370 different built-in auto-accompaniment styles to fit nearly any style and song you'd like to play.
Automatic Vocal Harmony
If you sing lead on your favorite songs, you'll be pleased to know that your backup singers are built-in in the Yamaha P-S500. Plug a microphone into the microphone input and select the option to add automatic vocal harmony.
About the Yamaha P-S500
While the Yamaha P-S500 was designed specifically to empower self-learners to play their favorite songs on their own, the P-S500 is still first and foremost a piano. Yamaha cuts no corners in the features of this instrument with weighted GHS keys to simulate an acoustic piano playing experience, authentic Yamaha CFX & Bösendorfer Imperial concert grand piano voices, Virtual Resonance Modeling (VRM), and more.
To learn more about this piano or to play it for yourself, reach out to The Piano Gallery today!
Additional information
| | |
| --- | --- |
| Bundle | Black Portable Piano Only, White Portable Piano Only, Black Portable Piano with Black Stand, White Portable Piano with White Stand, Black Portable Piano with Stand and 3-Pedal Unit, White Portable Piano with Stand and 3-Pedal Unit |