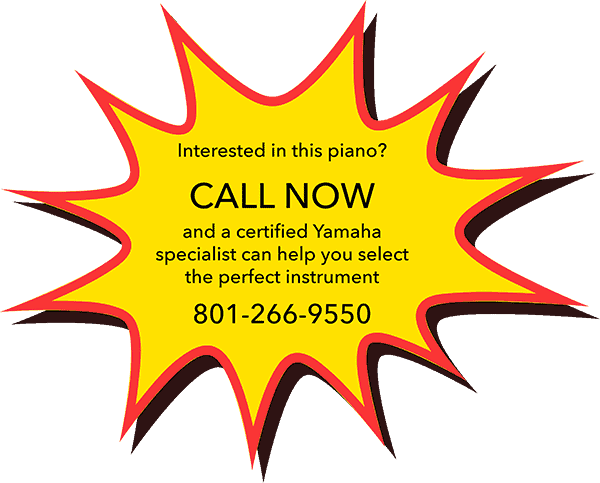 NEW Yamaha Clavinova CLP-785
The Yamaha Clavinova CLP-785 takes the phenomenal technology from the renowned Clavinova series and improves the touch, sensitivity, and sound for an even more realistic playing experience.
MSRP: $6899.00-$8,799.00
Buy Online Price: $6,399.99 – $8,199.99
Dimensions: 40 1/2" H, 57 3/4" W, 18 3/4" D
Model: Yamaha Clavinova CLP-785
Cabinet: Matte Black, Polished Ebony, Polished White
Weight: 192 lbs
Keys: 88
Pedals: 3
Recording & Playback: Yes
The Yamaha Clavinova CLP-785 is the flagship model in Yamaha's new CLP-700 series. With GrandTouch Keyboardaction featuring the same individual key counterweights found in a grand piano, you'll experience unrivaled realism in the resistance and return of each key. Sit down, close your eyes, and play—between the near-perfect sound, touch, and expressionism, you'll swear you're playing a world-renowned concert grand piano.
Features of the Clavinova CLP-785
The CLP-785 includes binaural sampling of the CFX and Bösendorfer Imperial for world-renowned grand piano sounds that resonate through the powerful 300W sound system and spruce cone speakers.
The GrandTouch-S™ Keyboard
Yamaha already did an amazing job of producing the best expressionism of any digital piano in the Yamaha Clavinova digital piano lines, but the GrandTouch-S™ keyboard takes it to a whole new level. The GrandTouch-S™ uses weighted, graded keys to reproduce the authentic touch, response, and natural key return of a grand piano.
Real Grand Expression 2
This feature in the Yamaha Clavinova CLP-785 allows you to use the slightest variations in your touch as you play, helping to capture your musical expression. You'll experience Yamaha's Smooth Release Technology, which captures the colors and nuances to the way you play, authentically replicating an acoustic grand piano's touch and feel.
GP Response Damper Pedal
Enjoy the same damper pedal performance you'd experience on an acoustic grand piano. The Clavinova CLP-785 damper piano offers a grand piano-style resistance curve, starting out light and growing heavier as the pedal is depressed, creating a more realistic feel and response.
Touch Sensory Control Panel
With a touch, feel, and sound so similar to an acoustic piano, it's no wonder Yamaha included a sensor control panel in the Yamaha Clavinova CLP-785. This control panel disappears when not in use to hide the powerful technology beneath the classic piano cabinetry to give you an even more authentic look and feel.
Binaural Sampling
You already know that the Yamaha Clavinova samples from two of the greatest Yamaha pianos in the world: the flagship Yamaha CFX concert grand piano and the Bösendorfer Imperial. With binaural sampling, the Yamaha CLP-785 reproduces an even more realistic, dynamic range and tone from these world-renowned pianos.
Virtual Resonance Modeling
The innovative Virtual Resonance Modeling (VRM) technology means the Yamaha Clavinova CLP-785 recreates the sound and reverberations you'd experience in a room with a grand piano. You'll hear the resonance of an acoustic grand piano's soundboard, rim, and frame, giving the sound an even more lifelike feeling. What's even more impressive is that you will experience this resonance even while playing with headphones.
Fortepiano Voices
Play like the classical masters with piano voices specifically sampled to simulate the way great artists like Mozart and Chopin would have played.
Additional Features:
4 Fortepiano Voices
53 Voices
14 Drum/SFX kits
480 XG Voices
Differences Between the Clavinova CLP-785 and the CLP-685
The biggest difference you'll notice between the Clavinova CLP-785 and the CLP-685 is the authentic grand piano touch and sound. While the Clavinova CLP-685 offered a realistic acoustic piano touch and sound, the CLP-785 takes this to another level with Grand Acoustic Imaging and Expression Modeling.
As an improvement to the CLP-685, the Yamaha Clavinova CLP-785 includes a heightened ability to play a more limitless range of sounds depending on the variations of touch and expression. It also even better simulates the mechanics of the hammers, strings, and keys in an acoustic grand piano to truly make you feel like you're sitting at bench of one of the finest concert grand pianos worldwide.
In addition to these differences, the Clavinova CLP-785 also includes updated Yamaha CFX and Bösendorfer Imerial Grand Piano sounds, new Fortepiano voices, and a touch sensor control panel.
Differences Between the Yamaha Clavinova CLP-745 and the CLP-785
The differences between the mid-level Clavinova CLP-745 and the CLP-785 include a Grandtouch™ keyboard with counterweighted keys for more realistic touch and playability. The CLP-785 also includes a GP Response Damper Piano, which simulates the resistance curve experienced with a traditional grand piano.
In addition to these differences, the Yamaha Clavinova CLP-785 also differs from the CLP-745 by offering additional voices including two additional Fortepiano voices, as well as having a touch sensor control panel which disappears when not in use.
About the Smart Pianist App
The Smart Pianist App is an intuitive, easy-to-use mobile app that can be downloaded through the Apple App Store and Google Play. It provides several features to enhance your experience with your Yamaha Clavinova. Check with Piano Gallery to verify the Smart App functions compatible with your Yamaha Clavinova.
Control the features of your Clavinova CLP-785, such as selecting piano voices, overlaying voices, using split-function to play two voices at once, as well as functions such as transpose, tuning, pedal and acoustic settings, all in an intuitive, easy-to-use screen.
Recording and playback functionality. Record your musical performances and playback on your device or through your Yamaha Clavinova.
Play along with your favorite songs. The Smart Pianist app will analyze the songs in your music library and display the chords so you can play along with your favorite songs. Some Clavinova pianos even have Audio to Score functionality.
And more! Visit the Piano Gallery in Murray, Orem, or St. George
Why Purchase Your Piano from The Piano Gallery?
The Piano Gallery has been serving Utah for over 30 years. Our piano team doesn't use the hard sell, up-sell, or high-pressure tactics. Instead, we treat you the same way we'd treat a friend or neighbor. We are truly committed to helping you find the best instrument for your needs and budget, and it shows!
Our salespeople come from musical backgrounds, with many actively performing in prestigious choirs or musical groups around the nation (and even around the world). Music is deeply engrained in our lives, and we know how powerful it can be for individuals and families. We work directly with you to understand your needs, preferences, and budget to help match you to your perfect piano.
We are so excited to offer the new Yamaha Clavinova CLP-785 both in-store (available November 1) and for pre-order on our online store. We are one of Yamaha's Top 5 Dealers in the United States, which means we are committed to quality, professionalism, and service. For more information about purchasing the Yamaha Clavinova CLP-785, call us at 801-266-9550 or fill out our contact form online. If you're ready to buy, select your favorite cabinet from the dropdown near the top of the page and you can complete your secure checkout online!