2020 Holiday Piano Sale – Salt Lake City, Orem, St. George Utah
This November & December, the Piano Gallery in Murray, Orem, and St. George, Utah is offering an amazing holiday piano sale! Our sale prices on Yamaha grand pianos, upright pianos, digital pianos, player pianos, and even used pianos are lower than ever. In addition to low holiday prices, the Piano Gallery piano stores are also offering 0% APR for up to 18 months on new and in-stock Yamaha pianos now through December 31, 2020.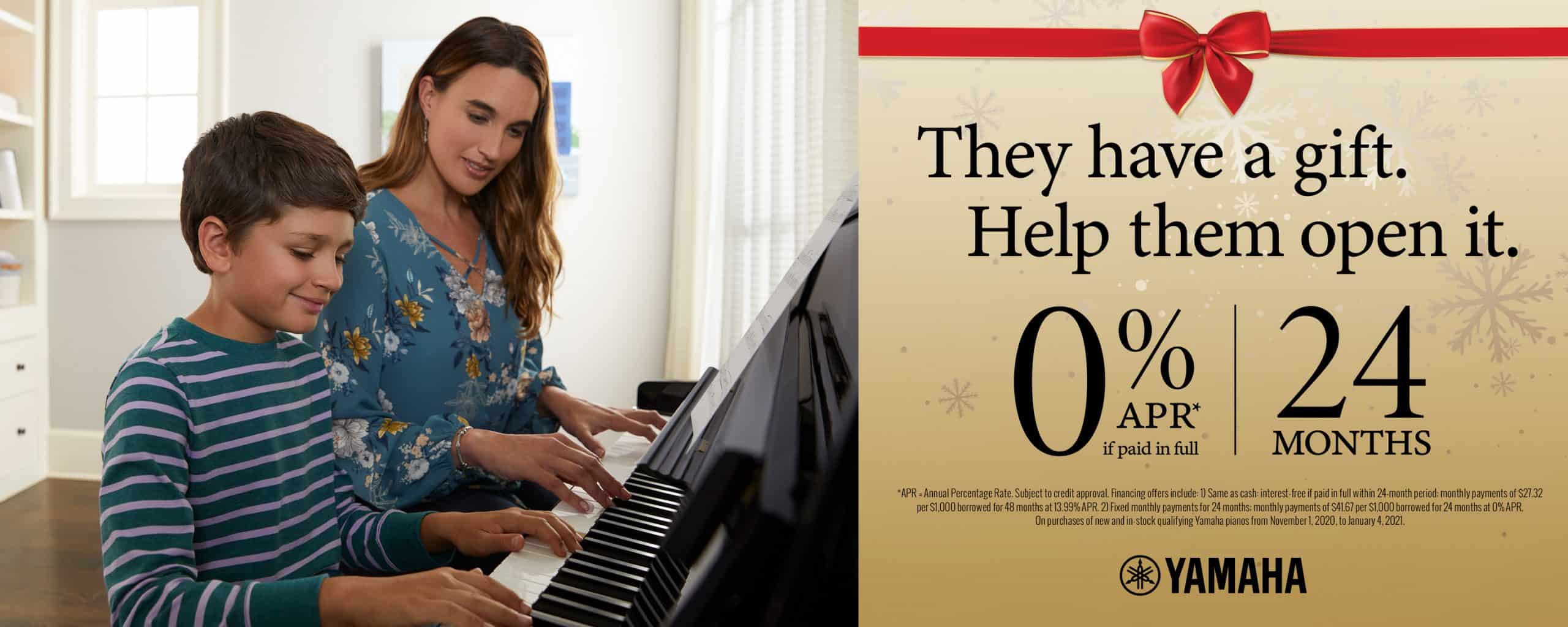 Subject to credit approval. Financing offers include: 1) Same as cash: interest free if paid in full within 24 month period; monthly payments of $27.32 per $1,000 borrowed for 48 months at 13.99% APR. 2) Fixed monthly payments for 24 months; monthly payments of $41.67 per $1,000 borrowed for 24 months at 0% APR. On purchases of new and in-stock qualifying Yamaha pianos from November 1, 2020, to January 4, 2021.
Shop our Yamaha 0% APR Piano Sale Now!
Browse our new 0% APR-qualified Yamaha pianos below or come in and shop our holiday piano sale at our Orem, Murray (Salt Lake City), or St. George, Utah locations!
Qualifying Yamaha Holiday Sale Pianos – New & In-Stock Yamaha Pianos 
Shop our Holiday Piano Sale 2020!
At Piano Gallery of Utah, we do our best to keep our online inventory as updated as possible. However, the best way to get know which pianos we currently have in stock is to contact us or visit one of our piano stores in-person!
Explore our new and used pianos below. Please note, we are not allowed to post holiday sale pricing on new pianos online, so please contact us for updated holiday piano sale prices!
Contact Us
Not sure what you're looking for? Would you like specific details on price or inventory?
Please feel free to give us a call or send us a message using the form below.
Locations
Murray, Utah
5478 South Green Street
Murray, Utah 84123
Hours: M-F 10am-7pm, Sat 10am-6pm
801-266-9550
Orem, Utah
650 South State Street
Orem, UT 84058
Hours: M-F 10am-8pm, Sat 10 am-6pm
801-244-0466
St. George, Utah
144 W. Brigham Rd #7
St. George, UT 84790
Hours: M-F 10am-6pm, Sat 10am-5pm
435-634-1062